Neuropsychology Laboratory
We study memory, executive functions, and emotion in healthy people and those with brain injuries or diseases. We combine perspectives and methods from cognitive psychology, cognitive aging, and cognitive neuroscience. We are also interested in cognitive training and rehabilitation.
1) Emotional responses to, and memory for, brief video clips
2) Neuropsychology of episodic memory and cognitive control
Acetylcholine
Sex hormones and oral contraceptives
Possible interventions
Research Participants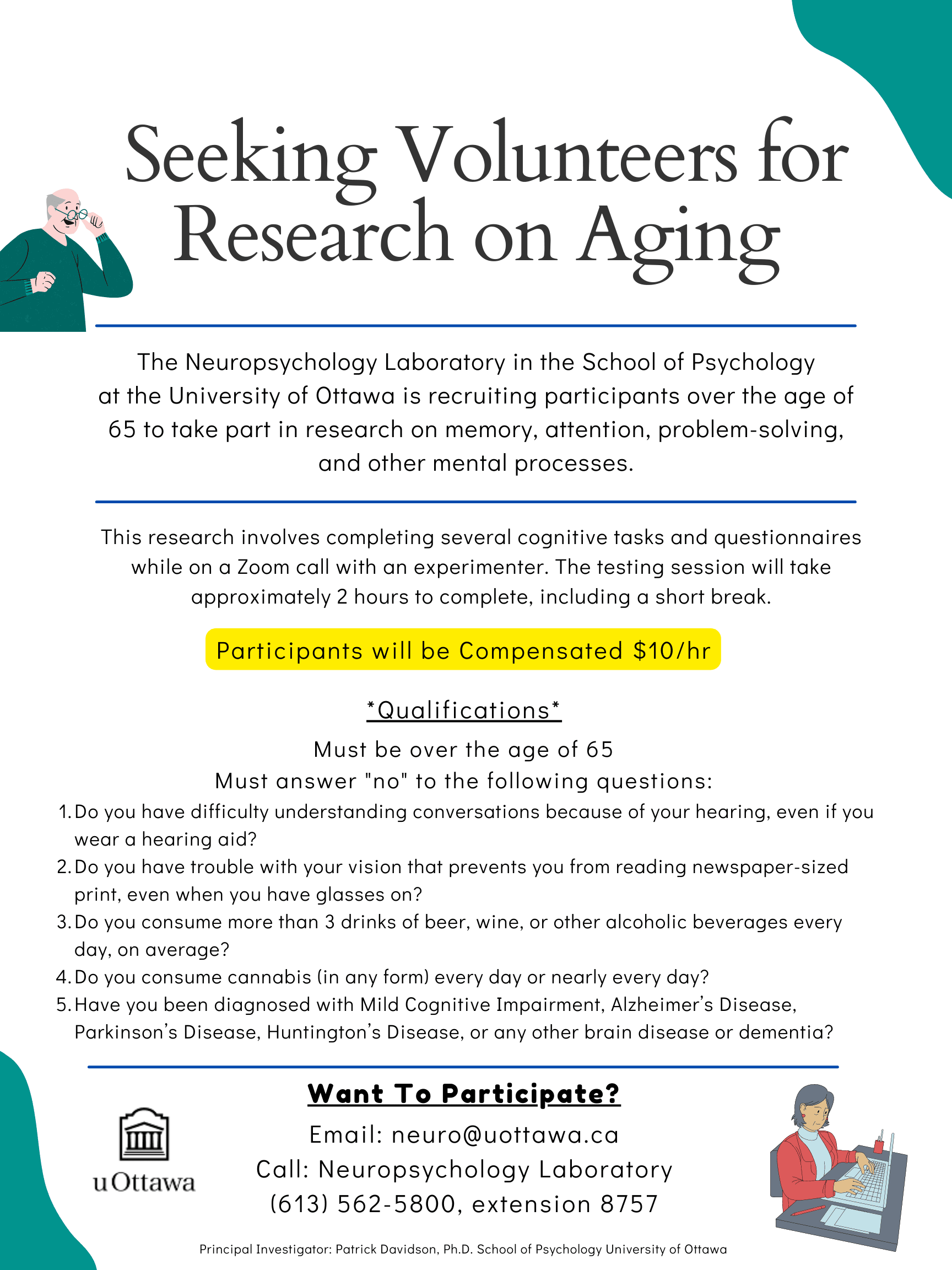 We are always seeking volunteers for research, especially seniors, people with Parkinson's disease, and people who have recently had a stroke or brain surgery (regardless of whether they have memory problems or not). Please contact us if you live in the Ottawa area and are interested in taking part.
Undergraduate Studies
Every year we welcome students to help us with our research via their Honours Thesis.
Graduate and Postdoctoral Studies
Prospective graduate students and postdocs can be supported by scholarships and fellowships from NSERC, CIHR, OGS, les fonds de recherche du Québec, the Parkinson's and Alzheimer's Societies, and other organizations. Potential students can find information on the graduate programmes in Experimental (preferably) or Clinical Psychology, but should also contact Dr. Davidson directly in the fall.
Researching Memory - Medical student's share what they know - CTV News Ottawa
School of Psychology
Faculty of Social Sciences
University of Ottawa
136 Jean-Jacques Lussier
Vanier Hall, Room 3021C
Ottawa, Ontario, Canada K1N 6N5
Map
Tel.: 613-562-5800 ext. 8757